Award Winning Thailand Real Estate Team
Absolute World Group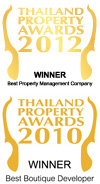 www.absoluteworld.com
Together with development partner A Plan Properties, the Absolute World Group has their fingers on the pulse of today's aspirational lifestyles. Founded in 1998, the company has grown strategically to become one of Asia's leading and multi awardwinning lifestyle property developers, resorts and hotels operators, and destination club and shared ownership pioneers. Absolute Developments, voted Thailand's Best Boutique Developer, is the property development arm of the Absolute World Group, creating both Absolute and partner-branded properties in highly desirable, exotic, holiday destinations. Absolute also offer their multi award winning shared ownership product at Twin Sands and their Resorts division manage the resort side of this outstanding development. Absolute Twin Sands Resort & Spa is Absolute's third sell-out development in Thailand and apartments at Absolute Twin Sands Resort & Spa are following suit.
A Plan Properties
www.aplanproperties.com
Working side by side with the Absolute World Group on this and previous successful projects, such as Absolute's sell-out Nakalay Beach Resort, A Plan Properties is a European-owned and managed property development firm, based in Phuket, Thailand. With a hands-on, energetic and professional approach, A Plan is dedicated to sustainability, innovation and precision in the property design and real estate development industry.
Jones Lang LaSalle
www.joneslanglasalle.co.th
Voted top real estate advisor in Thailand and Asia-Pacific 2012 and best commercial agent and best management company in Thailand 2012, Jones Lang LaSalle is a global financial and professional services firm, specialising in real estate services, with over 50 years of experience in Asia-Pacific and with more than 1,000 locations in 70 countries worldwide. Having started its Thailand operations in 1990, today, Jones Lang LaSalle is the largest international property services firm in the Kingdom. Jones Lang LaSalle is the lead agent for Absolute Twin Sands Resort & Spa, as well as the chosen property management company.
Studio906
www.studio906.net
With a combined experience of over 40 years, the Studio906 team boasts developments throughout Asia, working with many private clients and leading brands such as Marriott and the Absolute World Group. Studio 906 also designed Absolute Nakalay Beach Resort which opened in 2009.